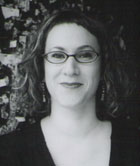 An award-winning writer, playwright, and filmmaker, Debra Anderson was the recipient of the Writers' Trust of Canada's prestigious Dayne Ogilvie Prize for LGBTQ Emerging Writers, given for a body of work (2009). She is a graduate of the York University Creative Writing Program. Her novel, Code White was supported by the Ontario Arts Council Writers' Reserve Program (2004) and her current untitled work-in-progress has been supported by both the Ontario Arts Council Writers' Works in Progress Grant (2011) and the Ontario Arts Council Writers' Reserve Program (2011 & 2012).
A regular on the Toronto reading scene, Debra's writing has been anthologized in Girl Fever: 69 Stories of Sudden Sex for Lesbians (Cleis Press, 2012), in the Lambda Literary Award finalist, Persistence: All Ways Butch and Femme (Arsenal Pulp Press, 2011), Geeks, Misfits and Outlaws (McGilligan Books, 2003), Bent On Writing: Contemporary Queer Tales (Women's Press, 2002), and the Lambda Literary Award finalist, Brazen Femme: Queering Femininity (Arsenal Pulp Press, 2002). Literary journal credits include Fireweed, Xtra, The Church-Wellesley Review, Tessera, periwinkle, Zygote, Acta Victoriana, Hook & Ladder, and dig as well as the now defunct Siren and Queers On-Line.
Debra will be reading at Blazing Femme in Naked Heart – An LGBTQ Festival of Words (Nov 2018). Most recently she has read at IN:VERSE in Naked Heart – An LGBTQ Festival of Words (2015), for World Pride & Nuit Rose at the Cunning Linguists at the Propeller Centre for the Arts (2014), POETRIX – a Get Lit World Pride Program organized by Glad Day Bookshop (2014), PROUD VOICES – Dirty.Sexy.Queer a reading organized by Pride Toronto & Glad Day Bookshop (2013), 'Querying the Page Panel' an event organized by the Toronto Public Library as part of the Thought Exchange Program at the Palmerston Public Library (2013), Glad Day Bookstore's Pride Program's 'Fiction with Friction' event (2012), Brockton Writers Series (Toronto, 2011), Trigger Festival (Toronto, 2010), Word on the Street (Toronto, 2009), Proud Voices Reading Series as part of Pride Toronto (2009), at the now defunct IV Lounge reading series (2007), and Lit Live (Hamilton, 2007).
Her novel, Code White was on the syllabus for WMST 1510 – 'Sex, Gender & Popular Culture' at York University where Debra was a guest lecturer and spoke to a full lecture hall of students in 2014 and 2015. She was the guest lecturer for World Pride 2014 at Monarch Park Collegiate through the Toronto Public Library (Danforth/Coxwell Branch), and was also a guest author for World Pride 2014 at the Parkdale Library, a guest lecturer at York University's Canadian Writers in Person Reading Series (AP/CLTR 1953 6.0A) where Code White was on the syllabus in 2009, and a guest author at UBC in a reading and panel discussion (2006).
Debra is facilitating a Creative Writing Workshop at this year's Naked Heart – An LGBTQ Festival of Words (2018), and has also taught Creative Writing Workshops for the Toronto Public Library at the Albert Campbell District Branch (2018), at Naked Heart – An LGBTQ Festival of Words (2015), for World Pride 2014 at Glad Day Bookshop, to the Toronto Wordsmiths (a writing group for youth between the ages of 16-29) that runs out of the Parkdale Library, at Queer Writes, a writing group run through the Sexual & Gender Diversity Office and The Mark S. Bonham Centre for Sexual Diversity Studies at U of T (2014), the Unity Conference at OISE (2013), which is a one-day gathering of LGBTQ2S youth & their allies belonging to or interested in creating GSA's, Word on the Street (2007) and at Pink Ink, a Toronto writing group for queer/trans youth run by Supporting Our Youth (SOY) in 2007.
She has performed at the tenth anniversary of the Thin Air — Winnipeg International Writers Festival (2006), The Robson Reading Series (Vancouver, 2006), Festival Voix d'Ameriques (Montreal, 2006), and at the Durtygurls Reading Series (Ottawa, 2006).
Debra Anderson's animated short film, Don't Touch Me, premiered at the Inside Out Toronto Lesbian and Gay Film and Video Festival (1998) and has been screened internationally at independent film festivals. Her play withholding was workshopped at Buddies in Bad Times Theatre in the Ante-Chamber Workshop Series. She was the winner of the prestigious George Ryga Award for Playwriting (York University, 1997).
Debra Anderson currently resides in Toronto, and toured her first novel, Code White (McGilligan Books, 2005) on a cross-Canada tour in 2006. Debra visited Ottawa, Montreal, Winnipeg, Calgary, Vancouver, and Victoria, performing with talented local authors in each city at various events which ranged from appearances at literary festivals and reading series, to bookstore readings and spoken word cabarets held in bars, cafes, and restaurants.
Debra was also the organizer and promoter of Get Your Lit Out, a reading series based in Toronto that promoted local female authors. She also organizes and promotes additional local literary events. To find out more information please email.
Debra writes book reviews for Shameless Magazine.
Contact Debra if you are interested in having her write reviews for your publication.
BOOKING & REPRESENTATION
Debra has read at numerous events across Canada including literary festivals, reading series, and at book launches. She has appeared in bookstores, art galleries, cafes, bars, salons, and cabarets.
Debra has also performed and given artist talks and lectures at Canadian universities and high schools. She has facilitated original Creative Writing Workshops for writing festivals, youth groups, libraries, students and the general public. She is a dynamic speaker on a wide variety of topics, among them: the creative writing process, the publishing process, feminist issues in texts, gender and sexuality, the outsider, finding your voice, how to create realistic dialogue, tips on working through writer's block, facing your inner critic, building a sacred creative writing space, creating characters who speak from a marginalized perspective, performing your work, creating successful writing groups, where to find inspiration, and how to tell your own story.
To book Debra to give a lecture, artist talk or to facilitate uniquely tailored Creative Writing Workshops for groups of any size, or to schedule her for festival events, readings, or book club visits, please email.
To contact Debra for an interview, or to receive a press copy of Code White and promotional materials for review, please email.
FREELANCE EDITOR & PUBLICIST – MANUSCRIPT EVALUATIONS, READER'S REPORTS, EDITING & PROOFREADING SERVICES
As well as being a novelist, Debra is a trained freelance editor with additional experience and expertise in the field of publicity. Her training in the field of publishing and writing includes Ryerson's Certificate of Publishing, York University's Creative Writing Program, an Honours BA in Women's Studies (York University), and George Brown's Certificate in Desktop Publishing. In addition, Debra has successfully completed Simon Fraser University's Book Publishing Immersion Workshop.
She has completed freelance work for Colborne Communications, a well-known publishing services company based in Toronto. She additionally excels in corporate copywriting and proofreading, and has recently worked on successful corporate partnership proposals with Fortune 500 companies for non-profit agencies.
Debra has wide experience completing thorough and helpful reader's reports for publishing companies, as well as working on non-fiction and fiction projects. Debra is a creative problem-solver, brings a keen eye for detail to every manuscript she reviews, and thrives working under tight deadlines.
If you require any assistance around publicity or freelance editorial work—whether you are interested in Debra completing thoughtful reader's reports for your company or if you are an emerging or established author looking for a manuscript assessment, email Debra to discuss your project and deadline, as well as to find out about rates.
Debra is able to offer assistance in the areas of manuscript consultation, substantive or stylistic editing, copyediting, copywriting, or proofreading, as well as publicity services to help creatively get the word out about your upcoming book launch or event.