• Save the date and invite your friends! On March 11, 2019 from 7 – 9p.m., Myseum Toronto and the RT Collective are screening the video, Chicken, that Suzy Richter and I co-created at the Gladstone Hotel (1214 Queen St W.). Further event details to come!
• Join me at this year's Naked Heart – An LGBTQ Festival of Words where I will be facilitating a Creative Writing Workshop, It's in the Stars – Building Characters with Astrology. No experience necessary – all are welcome! For writers of all levels. Buy your Naked Heart pass or pay $10 for an individual workshop. Saturday, November 10, 2018 from 11a.m. – 12:15p.m. (562 Church St.)
• Don't miss out on Blazing Femme, a night of readings by queer Femme writers such as Jewelle Gomez, Leah Lakshmi Piepzna-Samarasinha, & others who'll be reading to end Naked Heart – An LGBTQ Festival of Words in a blaze of glory on Sun. Nov. 11 from 8:30pm-10:30pm at Glad Day Bookshop (499 Church St.). All are welcome!!
• We had a blast at the Creative Writing Workshop, Coming Out LGBTQ: Letters to My Younger Self that I facilitated at the Toronto Public Library (Albert Campbell District Branch) (2018). Thanks to all who participated!
Debra Anderson was honoured to be the recipient of the Writers' Trust of Canada's 'Dayne Ogilvie Prize for LGBTQ Emerging Writers' for a body of work.
Debra Anderson launched her first novel, Code White
"Code White is Girl, Interrupted gone fin-de-millennium femme-tastic. Who knew the psych ward could be so sexy? Alex will make you laugh a hundred times and break your heart a hundred more. Debra Anderson is a sharp, smart, and breathtakingly insightful writer in full possession of the world she's created in this stunning debut novel."
—Chandra Mayor, winner of the Lambda Literary Awards
"The book is both tragically hilarious and unabashedly sexy."—Xtra!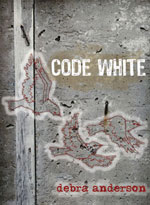 Alex wakes up in a psychiatric ward covered in mud, with no memory of how she got there. Detailing her life after a sudden manic episode, Alex reports the often hilariously bizarre details of her days while trapped on the inside. Stubbornly insisting on control, Alex scopes her ward-mates, skirmishes with the staff for information on her treatment, and stays true to her high-femme identity. Alex is a witty, neurotic narrator, negotiating dyke drama on both sides of the locked doors, and seducing characters and readers with the machinations of her lively, complex mind.
Code White is an innovative story of psychiatric confinement, rippling with sardonic humour, sexual tension, and rebellious honesty, in a setting that often lacks all three.
"Code White is a book that meets your eye, has a good handshake, and looks killer in a pair of fishnets."—Herizons Magazine
"Debra Anderson's style and focus is fierce and unblinking in this love story for the strange survivors of even stranger places."—Mariko Tamaki
DEBRA ANDERSON IS THE WINNER OF THE  DAYNE OGILVIE PRIZE!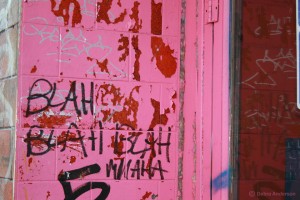 The Writers' Trust of Canada announced that Debra Anderson is the recipient of the third annual Dayne Ogilvie Prize! The $4,000 prize is given to an emerging Canadian writer from the LGBTQ community.
The winner was selected by a jury comprised of writers Derek McCormack, Shani Mootoo, and Karen X. Tulchinsky.
"Debra Anderson is a courageous writer, unafraid to explore and expose the deeper chasms in life. Combined with enviable craft, a big heart, a sense of humour and mischief, and that larger vision that makes a great writer, she holds her reader with a firm, delightful grip."—Dayne Ogilvie Prize Jury
For more info & prize history, please visit the Writers' Trust of Canada
READ ALL ABOUT THE DAYNE OGILVIE PRIZE!
The National Post – The Afterword
PAST TORONTO PRIDE LITERARY EVENT!
Get Your Lit Out – Potluck: A Night of Readings. Presented by Three Ring Paper Productions, hosted at A Space Gallery (401 Richmond St. W., Suite 110) on June 20, 2007 (7-10pm) FREE & all ages.
Hosted by comedian Dawn Whitwell and featuring Shani Mootoo, Trey Anthony, Anna Camilleri, Debra Anderson, Gein Wong & Dani Couture. No recipes required at this queer pride literary event! Get the dish on the latest Get Your Lit Out event by contacting organizer, Debra Anderson, Three Ring Paper Productions.
PAST TORONTO LITERARY EVENT!
Study Hall: A Night of Queer Readings is a free, all ages night of readings on March 7, 2007 (7-9pm) presented by Three Ring Paper Productions and TBLGAY at York University – Student Centre (Room 307, 3rd floor) at 4700 Keele St. Featuring Derek McCormack, Debra Anderson, R.M. Vaughan, & Leah Lakshmi Piepzna-Samarasinha.
PAST TORONTO LITERARY EVENT!
Get Your Lit Out – Heartbreaker is a free, all ages night of readings presented by Three Ring Paper Productions hosted at the Edward Day Gallery (952 Queen St. W.) on February 22, 2007 (7-10 pm) Witness local darlings spin stories about love gone wrong that are guaranteed to leave marks. Featuring Marusya Bociurkiw, Rose Cullis, Tara-Michelle Ziniuk, Julia Gonsalves, Chanelle Gallant, and Lisa Foad. Fat Femme Mafia will host!
"Hot brainy chicks and bad girls."—Xtra! (Issue 582) (on the Get Your Lit Out Reading Series)