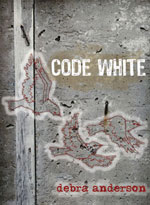 "Code White is the kind of book that those 'chick lit' books have nightmares about."
—Broken Pencil (Issue 31)
"The book is both tragically hilarious and unabashedly sexy."—Xtra!
Alex wakes up in a psychiatric ward covered in mud, with no memory of how she got there. In the all-women's ward that is now home, she creates space for herself in the only private place she can find — her diary. Detailing her life after a sudden manic episode, Alex reports the often hilariously bizarre details of her days while trapped on the inside. The other patients get on her nerves. Her friends on the outside don't know how to deal with her incarceration. True to her high-femme identity even while draped in hospital-issue pyjamas, Alex is determined to be in control, as she scopes her ward-mates, and skirmishes with the staff for information on her treatment. Alex is a witty, neurotic narrator, negotiating dyke drama on both sides of the locked doors, and seducing characters and readers with the machinations of her lively, complex mind.
Code White is an innovative story of psychiatric confinement, rippling with sardonic humour, sexual tension, and rebellious honesty, in a setting that often lacks all three.
"As much a novel of trauma and recovery as a critique of the conditions we create for those in recovery, Code White poses important questions about the ongoing pathologization of queerness in psychiatric practice and about how we know what wellness, integrity and sanity are in the first place."—The Hour (Montreal)
McGilligan Books • 2005 • ISBN: 1-894692-11-X
TPB 288 Pages • $19.95 CDN • Fiction/Queer Studies
PURCHASE
To purchase your copy of Code White, choose one of the below options:
1. PayPal
2. Support these and other incredible Canadian independent bookstores.
• Glad Day Bookshop 416-961-4161
Or shop online at Glad Day Bookshop. I'm honoured that they have chosen Code White as one of their Staff Picks!
• Little Sister's Book & Art Emporium 1-800-567-1662
• McNally Robinson Booksellers 1-800-561-1833
• You will need the name of the book (Code White), the ISBN (1-894692-11-X), the publisher (McGilligan Books), and the name of the distributor (University of Toronto Press).
3. Order by phone, by contacting Debra's distributor: University of Toronto Press (UTP), toll free throughout Canada at 1-800-565-9523. To place an order, you will need the name of the book (Code White) and the ISBN (1-894692-11-X).
Distribution: University of Toronto Press, Canada
Trade Sales Representation: Kate Walker & Company
Academic Sales Representation: Fernwood Books
PAST PUBLICATIONS
Girl Fever: 69 Stories of Sudden Sex for Lesbians — Ed. by Sacchi Green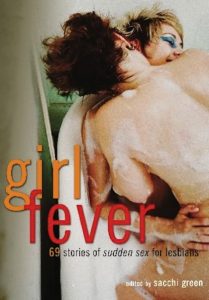 This big book of lesbian quickies satisfies on every level with stories from top-notch contributors that evoke the heat, the urgency and the "gotta have it" moment of the quickie. There are long-time companions, one night stands, meet-cutes and meet only once stories to fuel your fantasies in this book of lesbian quickies.
• Includes my story, "In the Bush"
"Stories take place in an hour, in ten minutes, in six minutes, and feature the urgency of sudden sex everywhere from the back of an ambulance to an airplane bathroom. One story is called "Shane," just FYI."—Autostraddle
Cleis Press, 2012 • ISBN: 978-1-57344-791-1 • TPB 331 PP • $15.95 US • Fiction/Erotica
Persistence: All Ways Butch and Femme — Ed. by Ivan E. Coyote and Zena Sharman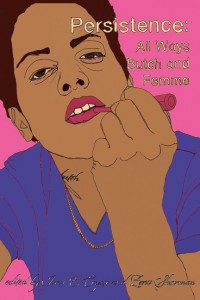 • Lambda Literary Award finalist
• Winner of the Stonewall Honour Books in Non-Fiction
• Check out my author interview on the Persistence blog
"Read Persistence and look again at what you thought you knew and get to know some of the people that will be defining what it means to be revolutionary in the coming decades."—Dorothy Allison
"There is no doubt in my mind that this book will soon be recognized as a major contribution to the shelves of our queer literature…This is a smart, loving book by some terrific writers."—Kate Bornstein, author of Gender Outlaw
Persistence: All Ways Butch and Femme is an anthology that is a raucous, insightful, sexy, and sometimes dangerous look at what the words butch and femme can mean in today's ever-shifting gender landscape, with one eye on the past and the other on what is to come.
Arsenal Pulp Press, 2011 • ISBN: 978-1551523972 • TPB 256 PP • $21.95 CDN • LGBT Anthologies
Geeks, Misfits and Outlaws — Ed. by Zoe Whittall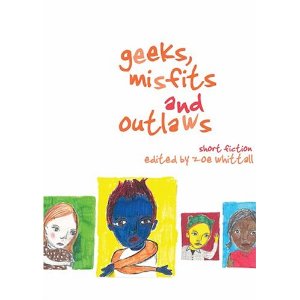 "A who's who of edgy young CanLit — a celebration of the eccentric." —The Globe and Mail
"A sparkling collection." —Bitch Magazine
Geeks, Misfits and Outlaws is a collection of short stories celebrating the eccentric written by an eclectic mix of provocative, humorous, and outlaw writers.
McGilligan Books, 2003 • ISBN: 1-894692-07-1 • TPB 328 PP • $22.95 CDN • Short Fiction
Brazen Femme: Queering Femininity — Ed. by Anna Camilleri and Chloe Brushwood Rose
• Lambda Literary Award Finalist
"…an amazing anthology edited by writers Chloe Brushwood Rose and Anna Camilleri that features work centered around the experience of being femme by award-winning authors, poets, artists, and activists; filled with short stories, musings, analytical essays, photographs, comics, and poems, some of which will (probably) make you f*cking cry. Among my favorite pieces is "fading femme" by Debra Anderson, a poem that describes the institutionalized femme stripped of her trappings: "I'm losing my colors / cloaked in the faded blue / of hospital property pjs / almost forget the femme in me." One aspect of the poem that stands out specifically is the interesting and important perspective Anderson offers on makeup: "this ritualized mask-making / not to hide behind / but to put forth;" that the aim of a femme's makeup is not to cover up the face, but to create the face. It's a form of performance art…"—Autostraddle
"The words packed inside Brazen Femme are so powerful, so intense, they had better bind the cover extra tightly."
—Books in Canada
"A bold, groundbreaking collection on the nature of femmes and femme identity."—Lambda Book Report
Arsenal Pulp Press, 2002 • ISBN: 1-55152-126-1 • TPB 176 PP • $21.95 CDN/$16.95 US • Lesbian Studies/Cultural Studies
Bent On Writing: Contemporary Queer Tales. — Ed. by Elizabeth Ruth
"'Good writing breeds good writing,' says Elizabeth Ruth in the introduction to this anthology, and she's got to be right. How else could seventy pieces, all culled from one long-running reading series, be so consistently good?" —Broken Pencil
An anthology that features the work of 55 talented writers who performed at the only monthly queer literary series in Canada.
Women's Press, 2002 • ISBN: 0-88961-403-2 • TPB 350 Pages • $29.95 CDN/$24.95 US